SPRING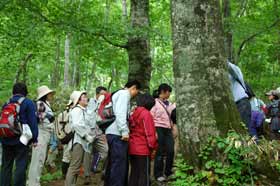 Buna Watching Tour

data:
Mid-June .2009
Details:

Take a stroll through 「Utasai Beech Forest」, which is the symbol of Kuromatsunai and a designated natural national treasure, in June when the brilliant fresh greens of the forest are at their best.During the party on the first day, local specialties and interesting conversation can be enjoyed.On the second day, local volunteers expertly guide visitors through the early summer beech forests.
SUMMER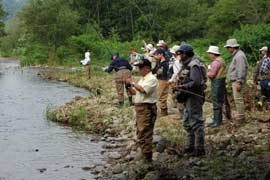 Buna Sato Fishing School
data:
Early-July .2009
Details:

With Kuromatsunai's clear streams as the setting, learn from top instructors, the fun and correct manner of fly fishing.From tying flies to actually casting practice and fishing in the rivers all areas are covered.At night at the auction to support the restocking of the rivers, there are always some amazing bargains for the keen fisherman.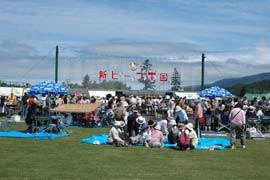 New Beef Tengoku Marutto Kuromatsunai
data:
July 25-26.2009
Details:

The main event of the year, Kuromatsunai's Beef Heaven BBQ Festival. As the name implies an event revolving around a good steak.At the main area, the local baseball ground, rows upon rows of BBQ's are lined up, where you can savour locally produce beef and pork under the blue skies of summer.There are also many attractions, competitions, to entertain during the day.
WINTER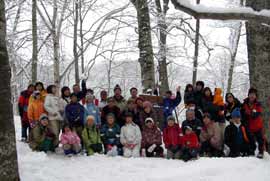 Kanjiki (Snowshoes) Buna Watching
data:
Mid-January ,end-February ,2010
Details:

Wearing traditional snowshoes, each individually handmade from mulberry wood, stroll through the winter beech forest.Walking over snow reaching an average depth of 2m, you experience a completely different atmosphere from summer. Searching for and identifying animal tracks in the snow is an interesting and educational activity.

2008 SPECIAL EVENT (This event has ended)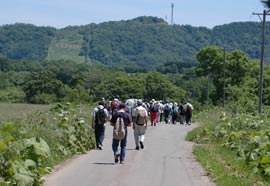 Footpath International Form in Kuromatsunai
data:
August 23-24
Details:

Aiming to show the world the Kuromatsunai's abundant nature, and idyllic rural scenery, through footpaths, which place little burden on the environment. The plan for the day includes, enjoying the full wonders of the actual footpaths, and also a speech from a visiting lecturer from England. The topic being the charms and appeal of English footpaths.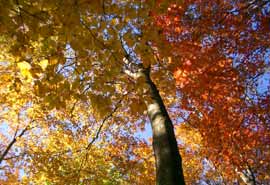 International Beech Forum
data:
September 6-8
Details:

To celebrate the eightieth anniversary of 「Utasai Beech Forest」being designated a national natural treasure, the International Beech Forum will take place from September 6-8.The aim is to send out to the world the significance of the northern beech forests as and indicator of Global Warming which is a main theme of the Hokkaido Toyako (G8) Summit this year.