The Northern Limit Beech Forests
The beech tree which is a typical representative of temperate zone tree species is distributed in Japan from the Oosumi Peninsula in Kagoshima Prefecture, mostly throughout eastern Japan. In Hokkaido thee beech is found only on the Oshima Peninsula, where the northern limit is the 「Kuromatsunai lowland area」that join Suttsu and Oshamanbe, where the continuous distribution from Honshu is interrupted.
UtasaiBeech Forest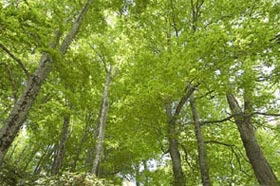 UtasaiBeechForest is a national natural monument which is also the symbol of Kuromatsunai and a representative of the northern beech forests.Only 2km from the centre of town is a virgin forest, untouched by men's hands, where you are greeted by giant trees with heights of about 30m, and trunk circumferences of 100cm.
The Utasai beech is called 「 the northern palm tree」as it has no branches on the lower trunk which rises straight from the ground.
Soibetsu Beech Forest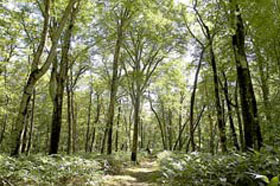 SoibetsuBeechForest is a secondary forest that has naturally regenerated after being logged once, approximately 80 years ago.Its main characteristic is the great number of young beech trees with at girth of 40-50cm, giving it a completely different atmosphere to the virgin forest of Utasai.
Buna Centre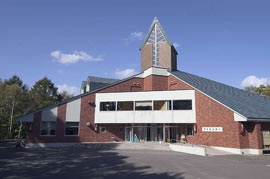 Buna Centre standing in the forest, built in Scandinavian style, with a distinctive gabled roof, introduces the town's history and natural environment, with a special focus on the beech trees.  Along with useful information on nature and animal watching, local flora, there is also an area to experience wood crafts, pottery and cooking.
○ Buna Hall

Commentaries on the national natural monument beech forest and historical material from the town are on display in this mini museum.

General admission \150 yen

○ Wood Studio

Using natural materials you can easily enjoy 「Nature craft」.

Studio Material Fee General \210 yen

○ Pottery Studio

There is a potter's wheel available so you can enjoy the experience of making your own ceramic art.

○ Food Studio

Take the challenge of making something delicious using natural ingredients from Kuromatsunai.
Handmade Processing Center "Toit Vert"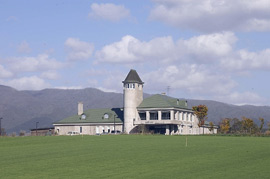 Toit Vert perched on a gentle hill, surrounded by extensive pastures. Making full use of fresh materials, Toit Vert manufactures and sells cheese, ice-cream, ham and sausage. In the second floor 「Research Room」 you can enjoy deluxe cheese fondue and other Toit Vert products. The 「Research Room」 was originally designed as a tasting area, that has grown into a small restaurant, as it became popular with customers.






Tort Vert II (Kuromatsunai Michi no Eki) Kuromatsunai Road Station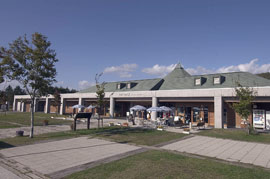 Toit Vert II located on National Route 5, the gateway to Kuromatsunai. An interesting road station where you can take a break from your drive, view a good collection of sightseeing information, or purchase local specialties. In the rest area, filled with natural sunlight from the large windows, you can enjoy light meals made with local ingredients. The number one recommendation is the hand made bread. Freshly baked bread made from carefully locally produced ingredients.





Utasai Camping Ground 「L 'PIC」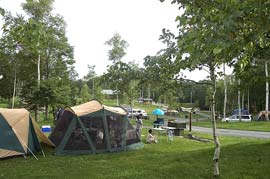 A camping ground, where you can pass the time carefree, surrounded by a beautiful forest.
○ Bungalow 3 sites\5500 yen per night
○ Standard car sites24 blocks\2500 or \3500 yen
○ Free Tent siteSpace for 9 tents\550 yen per tent.
Utasai Sizen-no-Ie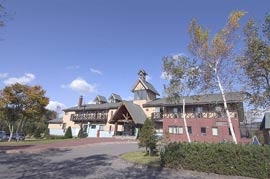 Shizen No Ie stands quietly surrounded by trees. Accommodation from which to base your experiences of Kuromatsunai's nature. Viewing scenes reminiscent or pastoral song, you can enjoy a menu of local specialties. Also there is a meeting room that can accommodate 80 people, which can be use for meetings, study groups or concerts.

Prices for a one night stay including two meals start from \7,440 yen. Stay only accommodation is also available.
Kuromatsunai Hot SpringsBuna no Mori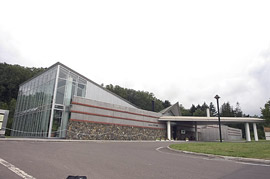 Waters coming from the slightly alkaline spring will leave your skin silky smooth. After a fulfilling day in the outdoors, visit 「Buna no Mori」hot springs, take a long soak and refresh your whole body.There are both Japanese style and western style springs, which are rotated between male and female use on a daily basis. In the western style section there is also 「Ganban yoku」, where you lie on hot stones and become pleasantly warm from the heat stored inside them.
Entrance fee is \500 yen for adults, \250 yen for elementary school students, preschoolers free.




Mountain Kuromatsunai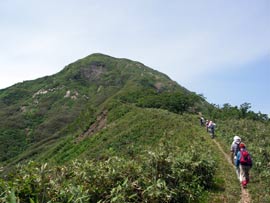 Mountain Kuromatsunai standing at a height of 739.8m allows commanding views of both the Pacific Ocean and Sea of Japan from its summit. The climbing path is well maintained so you can climb safely.A short climb from the entrance you a greeted by a beech forest with a nice atmosphere.
○ Ascent takes one and a half to two hours.
○Descent takes about one hour.
Shubuto River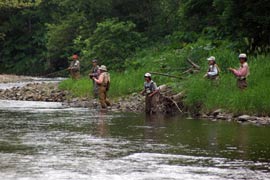 A river born in a bountiful forest, you can enjoy sweet fish「Ayu」fishing, fly fishing and of course water play.At SeseragiPark close to the town centre the flow of the river is gentle so small child can also enjoying playing in the water.
Utasai Shinrin Park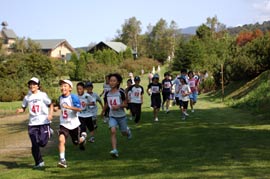 A park of gentle hills and slopes located directly in front of Shizen No Ie. Inside the park there are walking paths, a lookout, and well maintained rest areas and of course you can leisurely enjoy the four seasons there.
Footpaths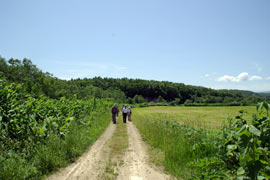 As a starting point for various exchanges three different footpath courses are maintained. Observing the changing seasons through Kuromatsunai's abundant nature, viewing the rural farm scenes, tasting the local treats, or meeting the locals are all things that can be enjoyed on a slow pace walk in Kuromatsunai.
| | | |
| --- | --- | --- |
| ○ Choposhinai Course | 10km | From the starting point at Toit Vert II, you can enjoy a walk abundant in scenery, following the river path, passing over a small hill toward the town centre. |
| ○ Teranosawa Course | 2km | Following the Teranosawa creek which flows through the centre of town, this course leads to Shizen No Ie. |
| ○ Nishizawa Course | 10km | Start at Shizen No Ie, walking via ShinrinPark, Buna Centre, while enjoying idyllic rural scenes, this path reaches Toit Vert. |